2020-2021 Program Calendar
August 3, 2020 Classes Begin
September 7, 2020 Labor Day-No Class
October 12, 2020- October 17, 2020 Fall Break
October 26, 2020-Oct 31, 2020 Wear Halloween Costume To Class
December 19-22, 2020 Class Demonstrations 2
December 23, 2020-January 3. 2021 Christmas Break
Classes Resume January 4, 2021
January 18, 2021 MLK Holiday- No class
March 1, 2021 Recital Costume Fee Due
Note: Recital Pictures
We recommend local photographers which may be contacted on our recitals page.
May 31, 2021 Memorial Day Holiday-No Class
VIRTUAL RECITAL VIDEO TAPING: June 27, 2021 (emails will be sent on times)
June 30, RECITAL VIRTUAL AD DUE, See Recitals Page
IN Class Awards Presentation. Week of July 12, 2021
Colors of Summer VIRTUAL Recital-LIVE STEAM Date July 18, 2021
July 19th-July 31, 2021 Summer Break
August 2, 2021 Classes Resume
Note: Dates will be added throughout the calendar year. The calendar is a tentative guide.
Princess Ballerina Events
Our princess ballerina events are open to the public. These events are fun, a great way to develop friendships and build community outside of the dance space. Tickets can be purchased for any event below.
Popcorn & Pajama Night
Princess Ballerina, come and enjoy our Popcorn & Pajama Night. A fun two hour exciting time. The popcorn and pajama night includes pizza, popcorn, games and a movie. Parents this is a great time to take a break from the kids.
Date: December 6, 2019
This event is limited so please register here on the site. Cost is $20.00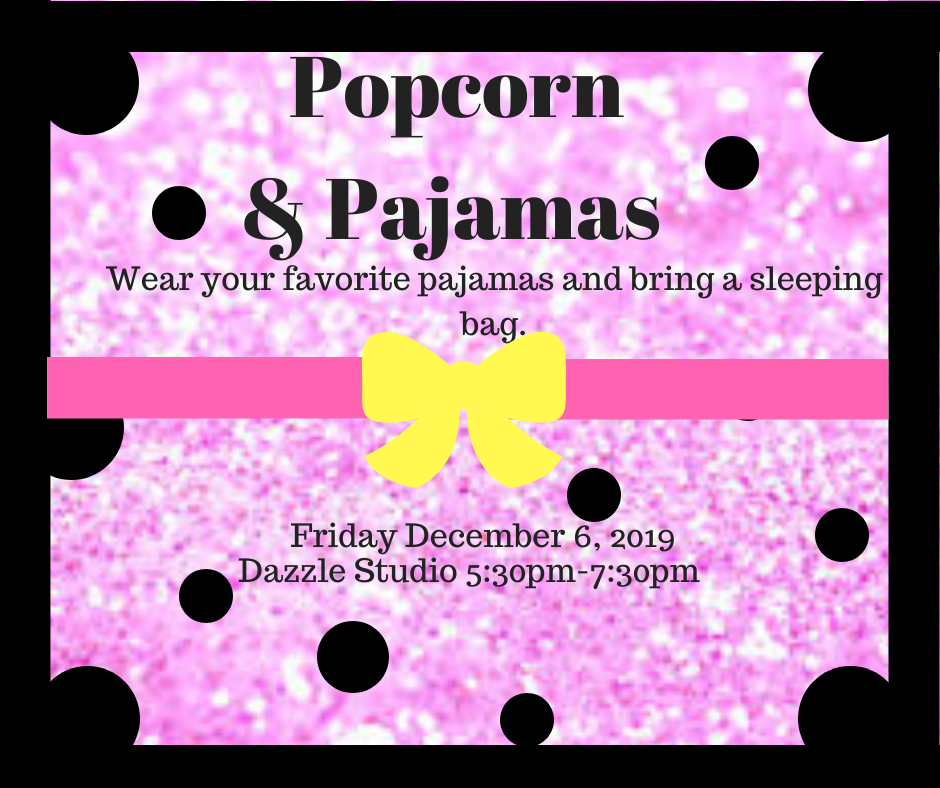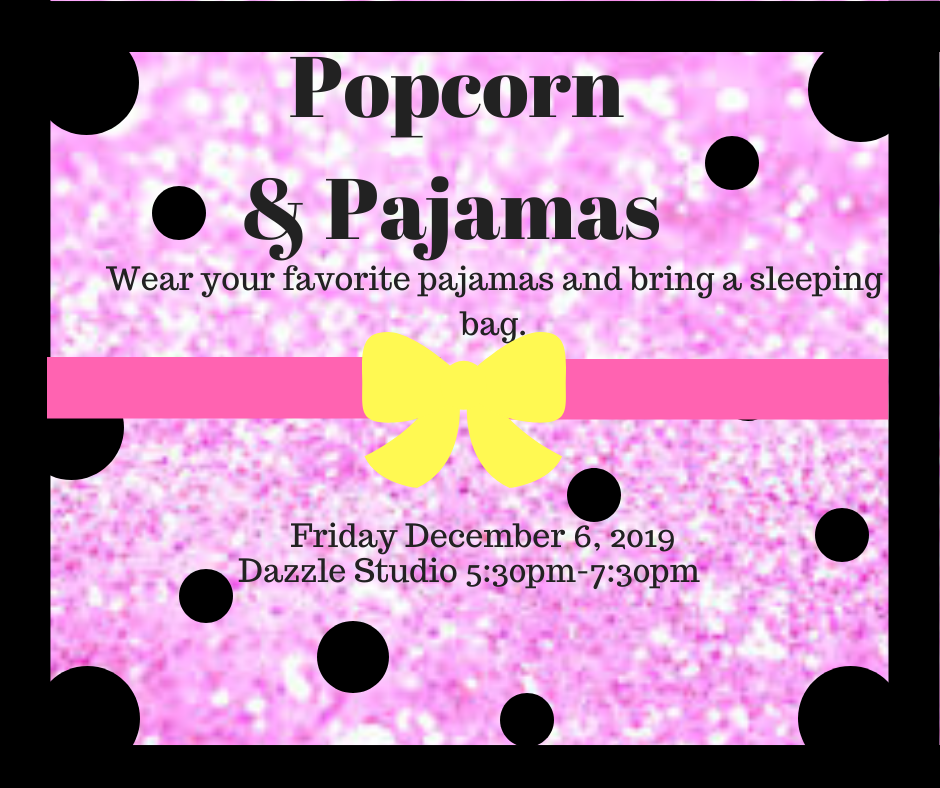 DANCE for ALL Workshop Series
The dance for all workshop series is a new month of dance for ages 3.5 to 9 years of age. The cost is $100 per 4 week series. On the last day of the series students will show a small piece. This is not limited to Dazzle students.  Class sizes are limited so make sure to sign up today. All workshop classes will be Saturdays from 11:45am-12:30pm. You can choose multiple workshops to attend. The schedule is as follows
Jazz Series 9/7, 9/14, 9/21, 9/28-African 10/5, 10/12, 10/26, 11/2 -Hip-Hop 11/9, 11/16, 11/23, 11/30- Tap  1/4, 1/11,1/18,1/25
Be a Princess Ballerina
Date: 1/25/19